Writing/Editing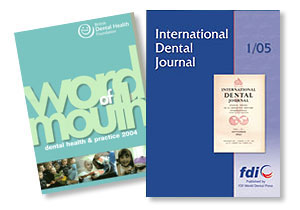 Stephen Hancocks has been writing and editing on the subject of dentistry for over 20 years. He has written for virtually all UK dental publications at one time or another and is a frequent contributor to consumer and trade publications and literature. As well as writing Editorials in the British Dental Journal he has a regular column in The Dentist (The Last Bite) and contributes to several current UK titles on a continuing basis including Dental Lab (The Dental Laboratory Association) and Networking (The British Dental Practice Managers' Association). Editorially, Stephen has worked on, or been associated with, many of the best known titles in the UK and worldwide (see CV). His knowledge of dentistry and of editing for clarity of meaning and ease of reading makes him one of the most sought after wordsmiths in the world of dentistry. Stephen is happy to discuss new projects in writing and/or editing.
British Dental Journal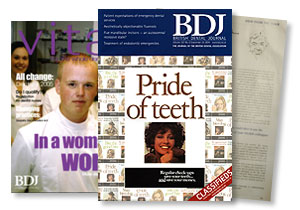 Stephen has been Editor-in-Chief of the British Dental Journal since 2004. Published twice a month the BDJ is recognised as the premier dental publication in the UK, as well as being well respected and with a wide readership around the world in print and online (www.bdj.co.uk) The print circulation is approx. 20,000 copies per issue and the BDJ includes peer reviewed research papers, practical and clinical articles, news, letters, a variety of other regular features and the profession's main classified advertising service.
It is wholly owned by the British Dental Association and published by Nature Publishing Group.
IDJ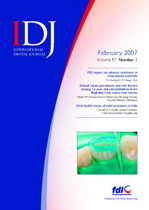 The International Dental Journal is the official scientific journal of the FDI World Dental Federation and was first published in 1950. Stephen was Associate Editor between 1989 and 1999, and has been Editor since 2000. The bimonthly publication is distributed in over 100 countries and carries scientific papers and reviews of oral health of interest to dentists worldwide.
Dentist - The Last Bite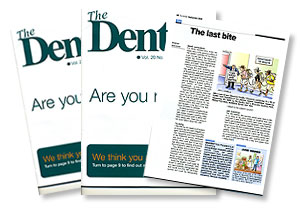 The Last Bite (previously the Diary) has occupied the inside back page of The Dentist since it was first published in 1984. Apart from the first two issues, Stephen has written every one of them, spanning the 20 plus years with news, observations and cheeky titbits from the weird and wonderful world of dentistry and dental practice.