Publishing
Stephen Hancocks publishes a wide range of dental publications from books (see under BUY ONLINE for details), through to scientific journals (also see under BUY ONLINE) and newsletters (see under WRITING/EDITING).
We are able to offer the complete range of publishing services from writing and editing through to ISBN numbering, publication, fulfilment and distribution, with particular expertise in the dental field.
We are always pleased to help, advise and quote on new projects, please CONTACT US to discuss your requirements.
Publications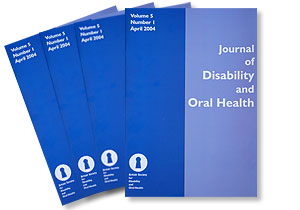 JDOH - The Journal of Disability and Oral Health is the official journal of the British Society for Disability and Oral Health (BSDH) and is dedicated to the advancement of knowledge and expertise in the area of Special Care Dentistry. It is a relevant reference for the dissemination of scientific knowledge to individual members of the dental team and an important resource for those undertaking additional qualifications.
JDOH is an important means of communication for all members of the dental team and other health professionals internationally with an interest in promoting the oral health of people with disabilities. It is published three times a year from 2006, in April, August and December.
To subscribe please go to BUY ONLINE
JDOH is now available online at www.jdohonline.org
For further details of content and editorial policy, including instructions for authors, please visit the BSDH website: http://www.bsdh.org.uk/journal
Oral-B's Dental Summary Review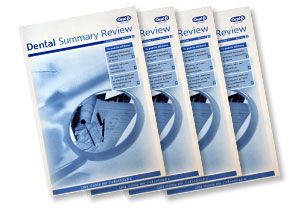 Dental Summary Review (DSR) is published on behalf of P&G Professional Oral Health and is distributed to dentists and dental team members twice a year in the UK Scandinavia
Each issue of Dental Summary Review contains summaries of over 30 recent papers selected from over 100 dental and relevant medical journals worldwide. Each summary is followed by a question with four possible answers for the reader to test their understanding of the text. In the UK where continuing professional development is mandatory readers can gain officially recognised credits of three hours per issue by returning their answers.