Speaking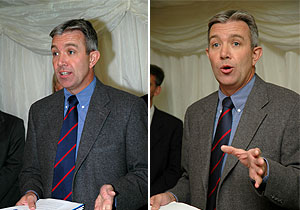 Stephen is an accomplished speaker and has spoken, lectured, performed, chaired and compèred in many different settings and for a wide range of groups, companies and organisations.
In addition to one-off occasions he has also presented full-day workshops on communication in dental practice and has taken part in radio and television programmes including interviews, 'phone ins and features.
Lecturing
As with writing, Stephen's approach is to undertake thorough research before embarking on a project. This applies to his lecturing, which includes subjects as diverse as communication in dentistry, dentistry and the media, and smoking cessation.
He has spoken at BDA conferences and FDI congresses as well as extensively throughout the UK.
Current Projects 2007
BDA Community Special Care Section - March 2007
BDA CDS Salisbury - March 2007
P&G/Oral-B Seminars UK venues throughout 2007
Kingston University MA Creative Writing course 2007
Nottingham VDPs - June 2007
Lancashire VDPs - June 2007
After-Dinner Speaking
Well known for his after-dinner speaking, Stephen has 'followed the coffee' for many years. He has spoken at dinners for, amongst others, many BDA Branches and Sections, the Dental Defence Agency, the Faculty of GDPs (UK), the British Dental Hygienists' Association, the British Dental Nurses' Association and a variety of company and conference events.
Presenting
As a master of ceremonies/chairman/presenter, Stephen was the original host for the Dental Awards at the Dorchester Hotel, and the prestigious Private Practice Awards at the Café Royal.
Having chaired various committees, debates and meetings, he has considerable experience in keeping proceedings flowing with a blend of wit and gravitas appropriate to the occasion.